You've probably seen it on Pinterest a million times or read about it on your favorite DIY or crafting blog, but what is washi tape anyway... and why is everyone so in love with it? Well, be prepared, because your washi tape obsession is about to begin!
OK, dish it! What is washi tape?
Often called wasabi tape by mistake, washi tape does originate from Japan, so we can see how the two terms are easily confused! But, washi tape has nothing to do with the spicy condiment that you eat with your sushi. The best way we can describe washi tape is that it feels like masking tape — very, very pretty masking tape. It's made of paper, but is not as delicate as you would expect. Plus, it comes in patterns and designs that will make even the most dedicated crafters swoon and varying widths to allow you to create some fun and intricate washi tape designs.
Washi tape is typically made from natural fibers, such as bamboo or hemp, but most commonly from the bark of trees that are native to Japan — the mulberry, the mitsumata shrub or the gampi tree. Most washi tapes are strong (as strong as duct tape in some cases!) and functional as well as pretty, making them wonderful for both everyday and decorative use.
We sell a whole range of washi tape!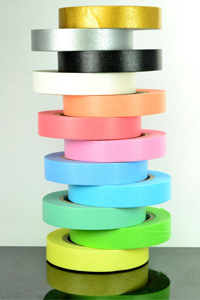 Since washi tape has blown up in the past couple of years, it seems like every craft manufacturer and Etsy store is incorporating their designs into a washi tape line. The cost of a roll of washi will vary, depending on its quality and design, but in general, a roll of washi will run you around R25.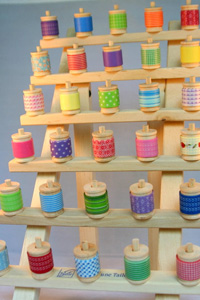 You can get lots of nice stands and holders to store and organise your washi tape.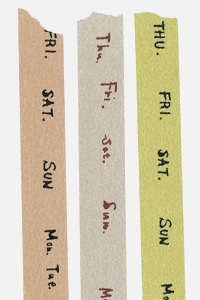 What can I do with it?
OK, so you have your washi tape in hand... but now, what are you suppose to do with it? For the craft challenged, we suggest you go to Pinterest and never look back. Enter "Washi Tape" into the search bar and you will be blown away at all the projects people have used washi tape for.
To get you started, here are some of our favorite ideas:
Wrap a gift in simple wrapping paper — white or brown kraft paper works great — then go to town using washi tape in the same way you would use ribbon. Don't be afraid to mix and match different tapes, widths and designs!
Let washi tape help keep you organized — put it to work in on your calendar or day planner in the same way you'd use a highlighter! Many washi tapes are quite transparent, so you can use a little tag of tape to draw attention to important dates. Try putting down a piece of washi, then using a permanent pen to write on top of it. Your calendar is going to look gorgeous!
Scrappers are using washi tape with a new obsession, and we hardly have to tell you how you can put it to work when making books to hold memories. Most washi tapes are acid-free, making them scrapbook-safe!